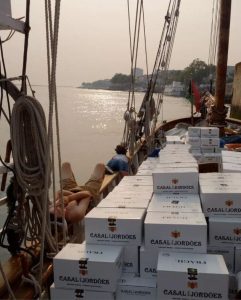 For those of you who will be at the Oxford Real Farming Conference (ORFC) on 4th January we hope that you will join the session hosted by OFN's Lynne Davis.  We will be asking four of our users to talk briefly and answer questions about how they are using OFN to build strong regional food systems.  For anyone not able to join us please contact Nick for a summary.
One of the OFN shopfront users who is speaking at the ORFC session above is Dhara Thompson of Sailboat Project – part of the Sail Cargo Alliance (SCA).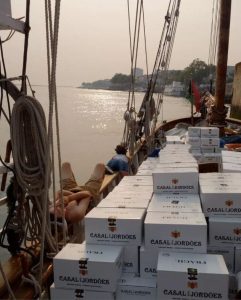 He is offering to bring with him pre-ordered olive oil, almonds and olives direct from growers in Portugal & France (more about them below) to the UK imported using nothing but sail power.  You need to order yours here by January 1st.
SCA is an alliance of organisations who share a passion for sail-shipped cargo, working together with shared ethics to create a healthy transport culture that promotes the preservation of the environment for future generations.
The Ships
By using the clean power of the wind we create sustainable and healthy transportation treading as lightly as we can on the earth's resources.
These ships facilitate a direct economic alternative for trade, empowering communities and individuals and ensuring the ability of future generations to enjoy the natural world that sustains us.
Shipping authentic, ethically and locally sourced cargo of exceptional quality.
Providing a transparent, high quality and reliable service at a fair price that reflects the real value of the journey.
The Crew / Community
We advocate a supply chain in line with a human chain that loads a ship by hand, where power comes from every stage of the process and every person being considered.
Favouring collaboration over competition across the entire supply chain through the organisation of an alliance. From farmer to sailor to vendor, we are all crew.
The Culture
Passion! A romance, an adventure, a journey to unite and inspire people.
Inspiration! Like the know how of traditional seamanship we learn through sharing.
Action! Don't just talk about it, do it!
Come along and meet Dhara at ORFC on Friday 4th January at 9am in the Council Chamber.  If you would like to support the Sail Cargo Alliance and get hold of some delicious, zero-carbon olives, almonds and olive oil you can order them here and Dhara will bring them to ORFC for you to take home.
Here is a bit about the producers:
Emilia Reigado, is to us the queen of the Cao Valley, and now famous after all the media attention from our first voyage. She is small and spicy, just like her olive production, because her trees are in the most impossible places. The Negrinha, Verdeal and Cornicabra varieties grow in a protected nature reserve where some of the trees are over 1000 years old! Along with her husband and son, there is little that they cannot do – from organic olive oil, table olives, dried fruit, almonds, honey, wine and great Leitaão (suckling pig). Here is the proof of what bounty is possible when working in harmony with the land.
SORESA is an association of agricultural products, located in Trás-os-Montes with an area accumulated of more than 70 hectares. We produce and sell Chestnut, Almond, Olive Oil, Goji and also Honey. Geographically we are in a privileged situation position between the Earth-cold and Earth-hot, this is what allows us to get products with characteristics of such a superior quality in these regions. Our practices live in a healthy way with modernity, introducing prudently the proprietary technologies of our time. We have a huge respect for nature, what we produce and how we produce. Our productions are in an Organic Production Mode – AB (Goji, Almond and Honey) and Production Integrated mode – PRODI (Chestnut, and Olive Oil), Both certified.
Azeite Caixeiro comes from a centuries-old family business, combining tradition and knowledge with new technologies. With one of the highest olive groves in northern Portugal, the family produces a very healthy and intense olive oil. The strength lies in the cooperation with nature and the selection of Cobrançosa, Madural and Verdeal olive varieties. The carefully selected olives are often pressed within 4 hours from leaving the tree. Caixeiro presses at Trás-os-Montes Prime, a unique press with traditional stone, where more than 50 of the best Portuguese olive oils are pressed. Caixeiro is a strong brand with an unbelievable drive and constant quality with a keen eye on the preservation of nature.