This page of advice and tips for setting up and hosting a crowdfunding campaign has been curated by Open Food Network in partnership with
Crowdfunder
.
Who are Crowdfunder?
Choosing the 'right' crowdfunding platform for your campaign is one of the first key steps for success.  A platform which attracts projects (and hence potential backers and donors) similar to yours, can give you a head start.
Crowdfunder is a UK-based crowdfunding platform which primarily hosts community-spirited projects.  Two of its founding members initially worked on the River Cottage program and, still to this day, the values of Crowdfunder align very closely with those of OFN UK and community food enterprises: 
Their number one mission is to tackle society's problems, 
They are people led and people driven,
They are passionate about the local food movement 
If you are interested in hosting a crowdfunding campaign, we recommend getting in touch with Crowdfunder and mentioning that you are part of the OFN platform:
https://www.crowdfunder.co.uk/help-centre
Or email Anna directly: anna@crowdfunder.co.uk
'Crowdfunding is an alternative way of raising finance, by asking a larger number of people each for a small amount of money'
Key Benefits
Access to capital which you may not be able to get via traditional routes such as a bank loan.
Spread the word about your community food enterprise.
By publicising your crowdfunding campaign far and wide in the hope of increasing donations you are also spreading the word about the good work your community food hub does.
An opportunity to connect more deeply with your community
By donating to your crowdfunding campaign a (potential) customer (or supplier of your food hub) may feel like they have 'invested' in your project and as a result become one of your strongest advocates.
A good way to test out new products or delivery/collection points.
If you host a rewards-based campaign you can test out the potential popularity of new products and services by offering them as 'rewards' received in return for donations.
Glossary of terms
All or Nothing
In this type of crowdfunding campaign you will only keep the capital from donations pledged if you meet your final target.
Flexible Funding
In this type of crowdfunding campaign you will keep all donations pledged. You will also be expected to honor all rewards offered in return for these pledges.
Rewards-based Crowdfunding
A donor has the option to receive a product or service from your community food enterprise in return for their pledge.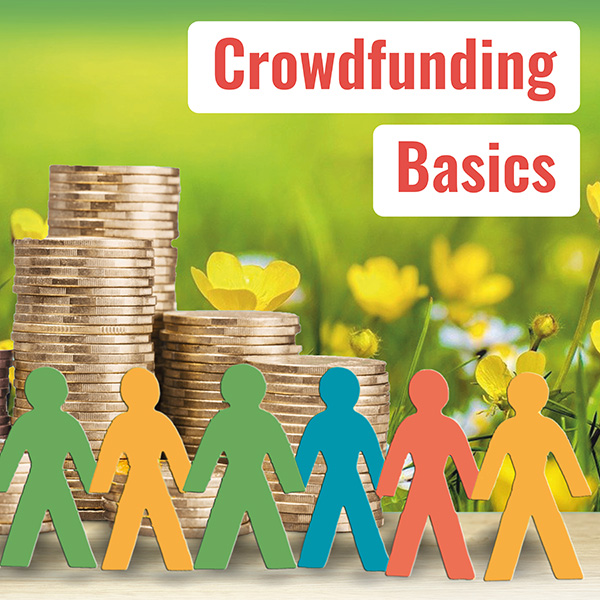 Webinar
'What is Crowdfunding and how can it benefit your food enterprise?'
Viewing time: 57 min.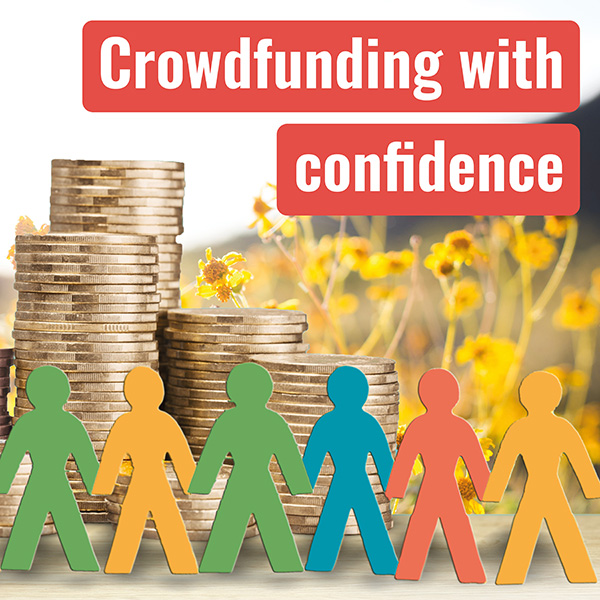 Webinar
'Crowdfunding with confidence: How to raise money for your food enterprise.'
Viewing time: 58 min.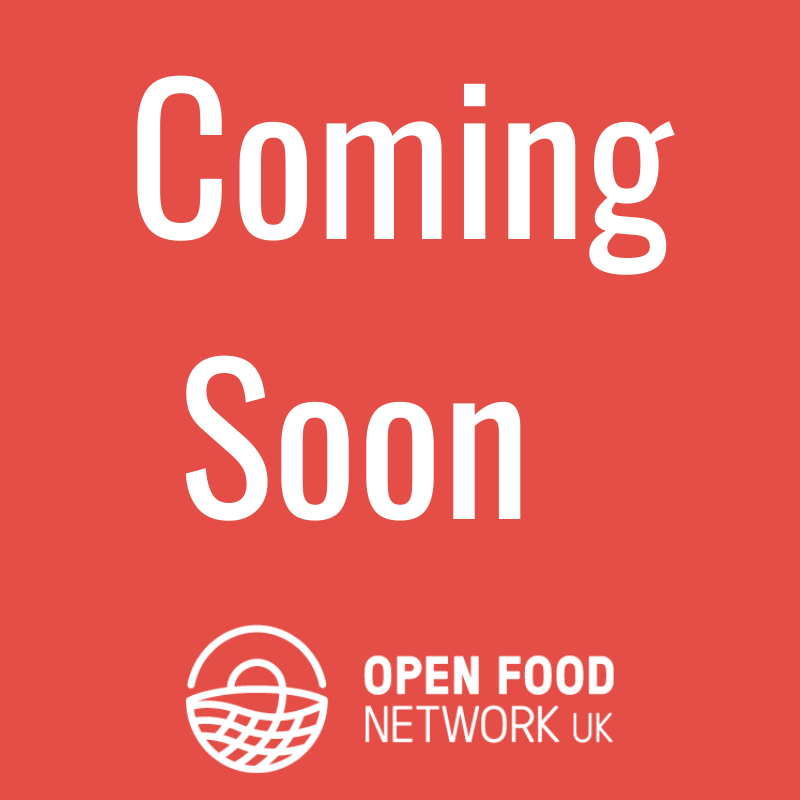 Hints & tips for food businesses
Is crowdfunding right for you?
Contrary to the popular belief, crowdfunding is not a 'one-shot' tool; many businesses and projects will host several successful campaigns over the course of their existence.
There will never be the 'perfect' moment to crowdfund and you can always learn from the mistakes of an unsuccessful campaign but you may wish to consider:
A successful crowdfunding campaign takes 2-3 months of intense prior planning.  You may need to also recruit new staff or volunteers to help you with either the campaign itself or to run the food hub while you focus on crowdfunding.
Do you have a 'tangible' goal for your campaign?
This might be to set up your food hub, to purchase a specific piece of equipment (eg. a van or storage), to be able to rent/purchase land, to refit or refurbish a shop…
Having a specific aim for the money will help you connect with potential donors and tell them how their pledge will both benefit them directly and the wider community. In turn, they will be able to see the results of their donation after the campaign has finished and feel invested in your food hub.  
Non-specific campaigns, such as 'to buy more equipment' or 'to increase access to local food' can be more difficult to explain to donors and, in return, tend to be less successful.
Crowdfunding targets
The total budget for your project will be made up of the following:
The cost of the piece of equipment you wish to purchase, the renovation work, …
The cost of producing rewards offered
Overheads (salaries or volunteers gifts for extra hours worked, marketing budget…)
6% for platform and card fees for Crowdfunding.
This Grand Total may be larger than is viable to raise by crowdfunding alone.
Successful Crowdfunding campaigns tend to have realistic targets which is the bare minimum to top up funding from other sources, such that you can cover all the costs of a project.  Showing donors that you have already secured some financial backing demonstrates that your project and business plan stands up to the scrutiny of funding bodies and that you are really serious about your aims.
Other sources of funding you may consider:
+ExtraFunding from Crowdfunder 
Personal loans from those closest to your food hub (friends, family, customers.)
Remember:  Your crowdfunding campaign may not be the largest source of funding for your project but will raise awareness of your food hub and may create a stronger, more loyal customer base going forward.
All or nothing v. flexible funding?
All or nothing campaigns are more likely to hit their targets.
Remember that if you offer rewards with a flexible funding campaign and do not meet your target you will still need to honour these rewards.  Is this something you can afford to do?
Campaign length
Research shows that four weeks is recommended as the optimal length to 'go live' with your crowdfunder for, but:
You may like to span two end of the month 'pay days'
Ideas & tips for rewards
Products or services which are representative of your food hub.
Budget each reward carefully: the aim is to make a profit!
For example,a reward where a customer pays in advance to collect a box of eggs or a loaf of bread every week for a year. This will bring the shopper to your food hub regularly and increase the likelihood that they purchase additional items.
These can be really popular and online events (or recordings) in particular, can be economical to host (and hence profitable).
Items such as tote bags, pens and stationary, branded with your food hub logo will serve as marketing for the food hub after the event as well as perhaps being something which is only available through the crowdfunding campaign.
Sidwell Street Bakery found that rewards where the donor felt they were 'giving' twice (once to the crowdfunding campaign and once by purchasing food which was given/delivered to someone else) were really popular.
For example, Sidwell Street Bakery offered 'Loaves of Gratitude' as a reward which was simply a loaf of bread with someone's initials carved into them.
Large donors may not want a reward
There will be two types of people who wish to support your crowdfunding campaign- those who really want the reward on offer and those who are deeply passionate about your cause. Make it easy for the latter group to also feel like they can contribute significant amounts without having to accept something in return.
Plan, plan, plan!
This is the most important step!  The more time and effort you can put into planning before your campaign goes live the greater the chance of it being successful.  
We recommend refering to this very helpful document.
It's even worth, in the planning stage, considering the next steps after the campaign closes!  Think about how you will proceed both if you reach the crowdfunding target and if you don't.  If you host a rewards based campaign then you will have (hopefully) lots of rewards to deliver!
Planning your marketing and the roll out of your campaign before you launch will greatly help! Be prepared for a very full-on 4 weeks, living on social media and continuously shouting about your food hub and values!
Pre-campaign launch
When planning a marketing campaign for your crowdfunding, this document will help you make lists of who to contact for a donation, and at what stage. 
'Influencers' as well as getting in contact with respected locals or famous celebrities who may live in your community, you may wish to contact those in the local, sustainable food movement:
Suggested order for your timeline of who to approach for a donation and when during your campaign:
Friends, family, staff and volunteers for your food hub: contact by phone or email
Customers of your food hub: perhaps add a paper message to their order or talk to them about it when they collect their food.
Social media
The wider community
The press: A template press release can be found here (coming soon)
Ask other businesses on the OFN platform if they would be willing to share a social media post or two in support of your crowdfunding campaign.
Draft emails and write any physical materials you may need (such as flyers to customers when they collect their food orders) in advance.
Schedule social media posts in advance of the campaign starting as possible but leave space for more 'of the moment' updates which you can post 'live'.  Examples of posts which can be pre-scheduled:

Posts about rewards that you plan to only make available later in the campaign (such as after 7, 14 and 21 days) 
For when you reach specific goals (such as 50% target)
Emphasising your key messages and aims of the food hub and the crowdfunding campaign.
More marketing tips & advice
During your campaign
Ask those closest to you to:
Donate early in your campaign.
This avoids the 'empty restaurant' scenario and will encourage those who don't know you as well to also contribute.  
For feedback on your campaign, social media messages, crowdfunding page: you can then make changes if necessary.
Point of sale marketing such as decorating your collection point with information about the crowdfunding campaign can be very effective.