Key Facts
Sole of Discretion are an ethical fishmonger supplying shoppers across the UK.
Trying to change the world of fishing one turbot at a time.
| | |
| --- | --- |
| Based in | England |
| Established in  | 2016 |
| Business type | Fishmonger |
| Company type | CIC |
| Yearly turnover | More than £700k |
| N° of employees | 6 FTE, 1PTE |
The core elements of Sole of Discretion's business are the following:
They purchase fish directly from boats as well as from the auction in Plymouth.
They only buy from local fishers- Helford in Cornwall being the most westerly location and Eastbourne the most easterly.
After buying the fish, Sole of Discretion processes it by filleting everything into 300 g packs. Many of the fish landed are not traditionally popular to UK markets but, when filleted and packaged in this way, the cooking is simpler as you can grill or fry them. The label on each pack reports the name of the fisher, name of the boat and method of catch. Sole of Discretion is the first company to provide this level of detail!
We are a fishmonger buying exclusively from 10 m boats – relevant in Brexit talks! Many studies indicate that this has lower impacts on marine environments. We are owned by the skippers that own the boats and not by distant conglomerates. This has a positive economic impact upon local communities.
Trade offs
We tried to wean consumers off farmed salmon, but in the past our biggest business-to-business (B2B) customer asked us to process farmed salmon – which is depressing but easy to work with as it gives us a stable supply. However, thanks to meeting a fisherman from Alaska we now import wild salmon, enabling us to reduce the amount of farmed salmon to very low amounts. We wouldn't be able to do that without help from Slow Food Belgium, so yes Brexit is an issue.
Wild salmon accounts for 50% of Sole of Discretion sales now. They are currently working with a university masters student to analyse the carbon footprint of wild v.s locally farmed salmon.
Before COVID-19 they employed four people. This has now risen to seven. 2020 was the first year, in its four year history, when Sole of Discretion made a profit. There was a slight drop off in sales after the first March-July 2020 lockdown but revenue increased massively in the run up to Christmas 2020. The hope is that consumer patterns have now changed for the better.
Communicating their values
We tend to communicate very badly. We were set up initially to sell to Riverford Organics and I still would rather be doing only B2B. I'm not a marketing person, which has been our downfall as there is a lack of a vision for marketing.
The issue here is that Sole of Discretion weren't originally planning on building a brand, but a food service centre. This still remains a problem. They're looking to hire someone for communication through the government's Kickstart Scheme for 16-24 year olds. Overall, they're finding it very hard to find a digital communications person to do the marketing.
Joining OFN
Sole of Discretion's sudden change in business plan from B2B to business to customer (B2C) was key in this decision. Originally, they didn't set up to sell directly to customers but business to business. However, they were dropped by Riverford some years ago around Christmas time. They met Nick shortly after this and thought they would give things a go.
We were offered a grant by Power to Change and a mentor, and OFN was enabling a website within 2 days of us finding them.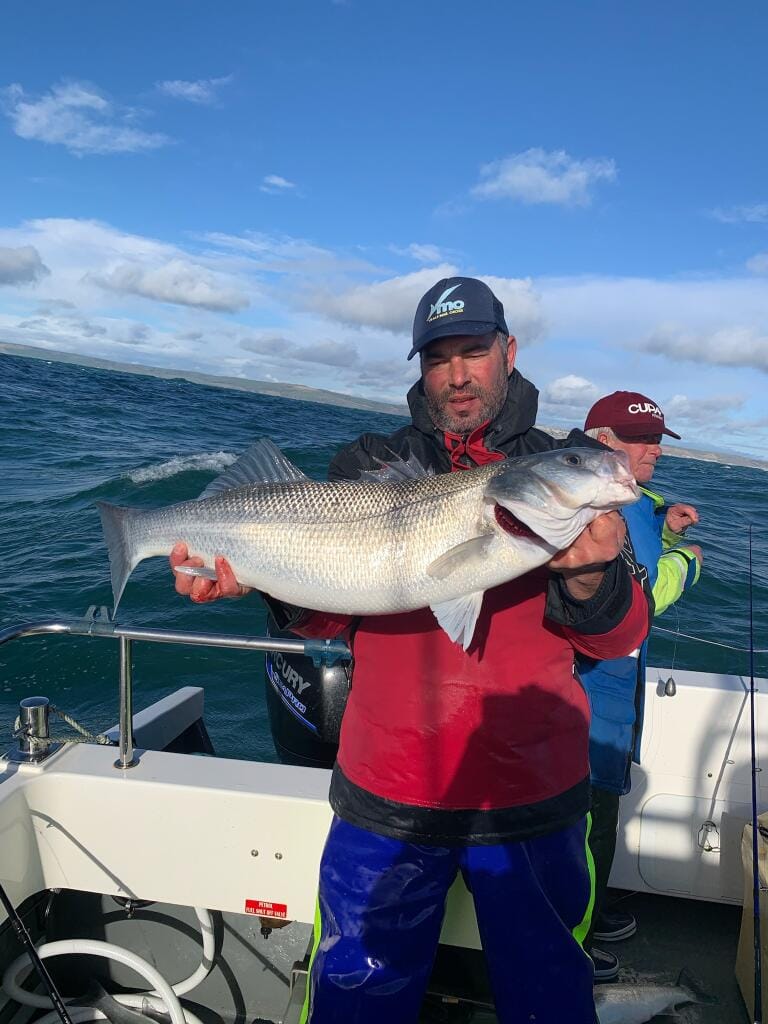 25th Jan 2021, line-caught wild bass by fisher Aaron, courtesy of Sole of Discretion Facebook.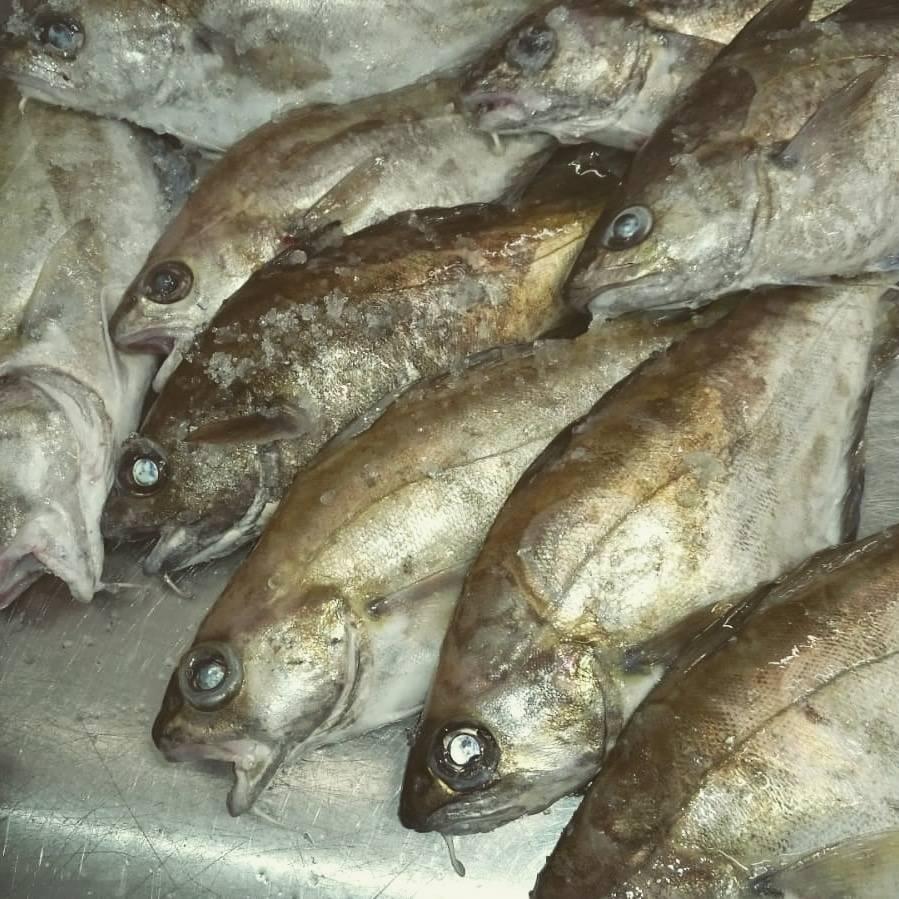 24th Oct 2019, hand-line caught pouting by James. Photo courtesy of Sole of Discretion Facebook.
Sole of Discretion has recently been awarded funding from LEAP. One of the conditions of this funding is a requirement to strengthen the board. Their first board meeting was held during the March-July 2020 lockdown via Zoom.  Decisions were made in the meeting by the 3 attending board members.
On the other hand, fishers have historically not been interested in getting involved in the CIC and wanted to distance themselves from a loss-making business.
They don't understand that you aren't financially liable if you become a director or shareholder. Now that we're making money things are different and fishers are interested. I asked the company secretary how to issue shares, but it won't happen this year (2020).
There have been fluctuating prices during lockdown and the collapse of European markets has caused many more fishers to join Sole of Discretion, which has been very positive for business.
Order cycles
Sole of Discretion offers four order cycles each week. Shoppers opt, after landing on the OFN shopfront, for the day of the week and date on which they wish to receive their fish (Tuesday, Wednesday, Thursday or Friday). Orders can be placed up until noon the day before delivery and a maximum of 10 days in advance. The stock available in each day's order cycle differs depending on availability.
The downside of this process is that customers sometimes find things confusing. Some of their customers order by phone rather than the OFN platform as they don't understand how to navigate the online shop. Sole of Discretion reports that even for young, very tech savvy shoppers, people need the shopping experience to be clear and obvious. Lack of skills using technology also hinder some further.
Handling food waste
Fish by-products aren't saleable. We commit to blast freezing everything that isn't sold that day as part of core values to avoid general waste. Offal and roe are bagged up and sold as offal and roe. Few people like herring milt but one person is a fan. Plenty of people like herring roe.
For now, guts and frames go to a biodiesel company.  They scrape the meat off the salmon fish bones and use it to make fish cakes, which are essentially a free product.
In the long term Sole of Discretion plan to set up a cat food company. They would then dry the guts and frames before sprinkling them on wet cat food.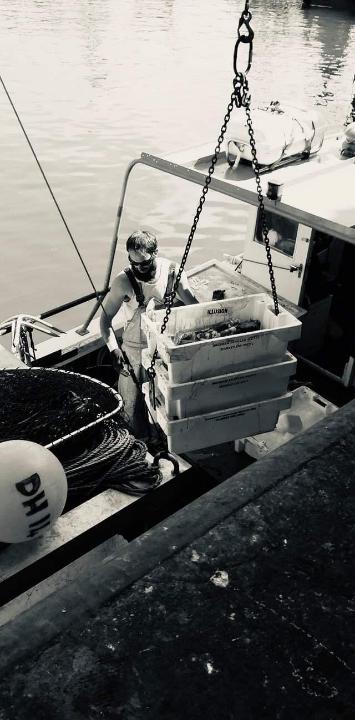 Photo courtesy of Sole of Discretion.
8th February 2019, herring caught by Graham on the Halcyon. Photo courtesy of Sole of Discretion Facebook.
They have not considered selling products from other OFN producers through the Sole of Discretion shopfront. This is mainly due to the barrier of juggling the delivery logistics of fresh fish with other products (which would require alternative shipping conditions).
However, Sole of Discretion does supply food hubs which are located close to them via the OFN platform. For instance, Tamar Valley Food Hub retail Sole of Discretion fish alongside vegetables sourced from others enabling shoppers to purchase all the ingredients for a meal in one place.
Essential tools
After the fish is processed, it goes into a vacuum bag and if it's not sold that day goes into a blast freezer which gets it down to -30°C in about 20-40 mins depending on the size of the fish. They also use a walk-in freezer at -20°C which is about 8 x 5 m in size, in which they store all their stock.
The premises are rented, they don't share them with any other community enterprises.
Labeling
We find labeling quite difficult particularly for online orders as we have to make an estimation of how many labels of a particular weight we need to print off. To preserve our margins, the product team is responsible for ensuring that the weight stated on the label is as close as possible to the weight stated online and never under.
The OFN description says minimum weight and it is never less than that.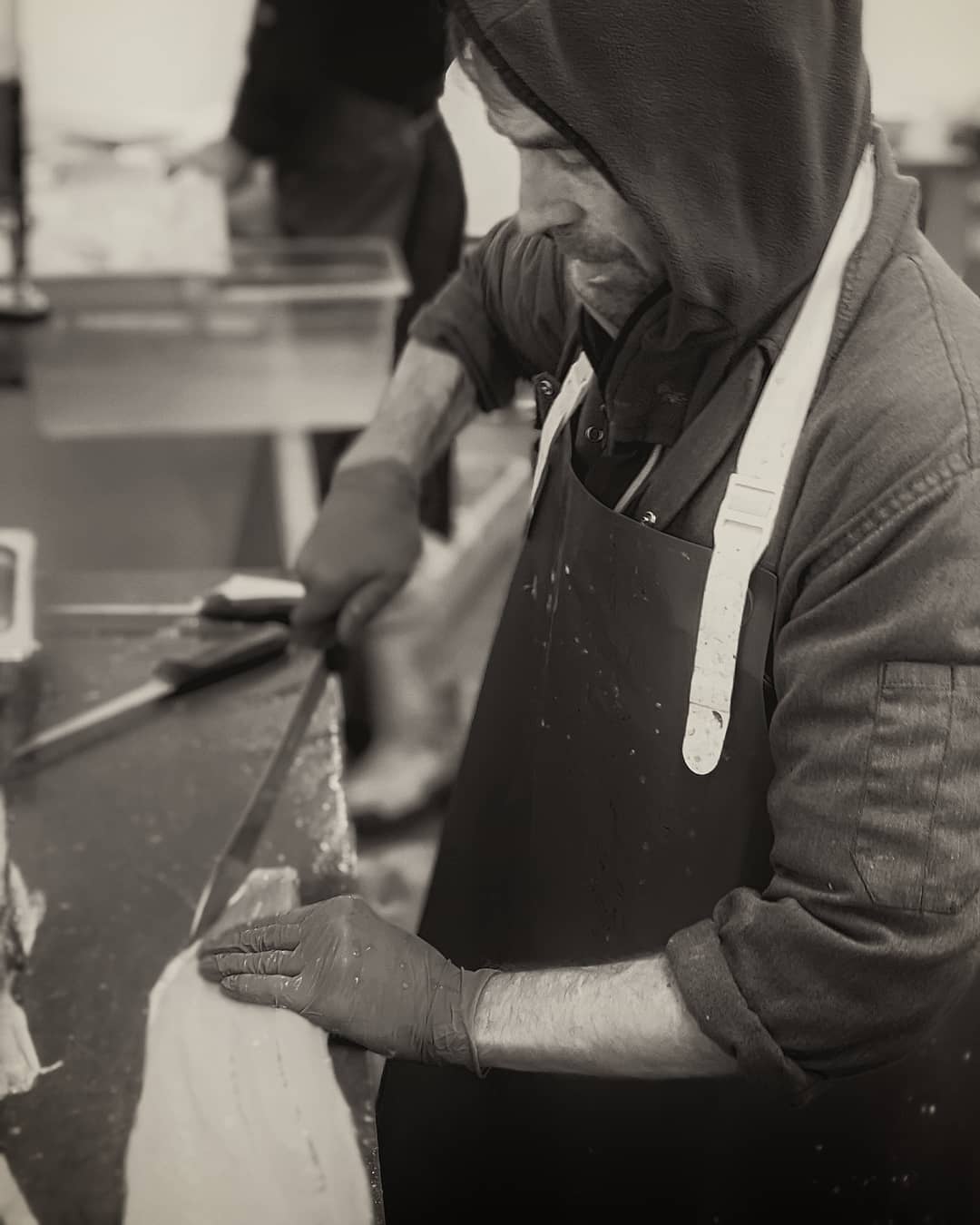 2nd July 2020: David processing fish for freezing. Photo courtesy of Sole of Discretion Instagram.
Distribution
Very few people collect from the Plymouth pick up point. Sole of Discretion sends produce mostly by mail order using external third party couriers, as they don't have their own transport. Their main issue is that they cannot find a reliable courier who can handle chilled distribution. Too many of the orders are mis-delivered. This results in refunds and wipes out most of the profit on B2C orders.
Software
When Food Assembly collapsed everyone moved to OFN, which Sole of Discretion finds easier to administer. The only issue they have with the platform is the way order updates, up until the point Sole of Discretion are in receipt of a customer's money, are recorded in OFN invoices. As a consequence, they currently use the accounting software Xero (which allows retrospective change to invoices) but the process creates an added layer of extra work.
Hence, in terms of software, Sole of Discretion use OFN to sell and Xero for accounting. Excel spreadsheets are used for other numerical data. They plan to start using mailchimp for restaurants.
We don't have any other card payment facilities except for OFN. The few people who come to Plymouth pay by cash or BACS.
Sole of Discretion is interested in linking OFN with Xero, as they find Xero a fantastic tool. They like working with OFN, albeit they find order cycles administration a little frustrating. After the Food Assembly stopped, they've found it easier to focus on just one platform. They also considered Big Barn, but OFN is easier to use.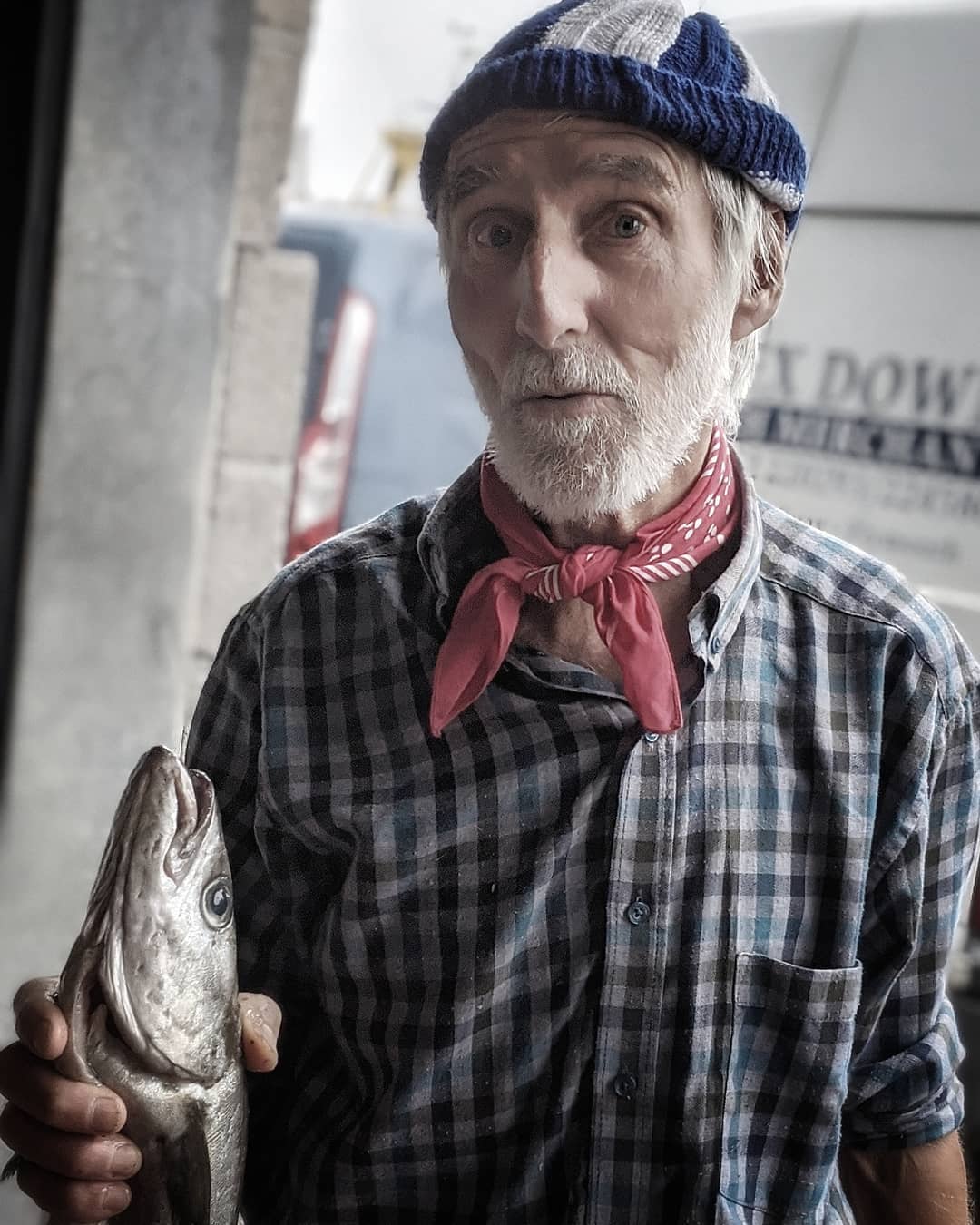 24th June: Fisher Chris who lands pollock at Helford. Photo courtesy of Sole of Discretion Instagram.
10th July: Plaice caught off Devon. Photo courtesy of Sole of Discretion Instagram.
Pricing
Sole of Discretion's pricing strategy is to typically set the retail price of their frozen fish packets £2 or £3 higher than the cost of the cleaned fish contained within the pack.
Tough pricing disincentivised fishers to land cheaper fish and incentivised more expensive fish which is bad for the environment. We are trying to change that. Our charging method is to look at fish cost and after we have cleaned and fileted the fish, we add a £2-3 mark up. It would be unfair to add a percentage.
Other outlets are driven by simplicity but nature is complex, so pricing strategies have to take account of that.
Legal & financial advice
For food hygiene Sole of Discretion have found advice from their Environmental Health Officer very helpful. When they were setting up their business they also hired a consultant to help with health and safety. Due to Brexit, they need a vet to inspect everything that goes to Europe. They also refer to the audit organisation, SALSA that focuses on smaller suppliers selling to large suppliers.
They hire an external firm to run the payroll.
Sole of Discretion's business is mainly B2B (96%), while only 4% is B2C. Their largest customers are Abel & Cole and Farm Drop, as well as independent chains such as Better Foods in Bristol. This over-reliance is a risk to the Sole of Discretion operation but they are better at B2B.
The main difficulties Sole of Discretion have with B2C trade are due to couriers. They might have to wait all day to be given a slot for collection and the product can't arrive a day later as it is perishable. Couriers are highly unreliable so Sole of Discretion end up refunding 1 in 5 customers, which makes expansion of this part of the business difficult.
Recently, one of our farm-based B2B customers stopped ordering as there was not enough supply. They wanted a lot of just 2 or 3 species and the model didn't work. We have relatively small amounts of fish across a wide range of species, which puts a limit on growth.
Also, Sole of Discretion have found white British people don't seem to eat a lot of fish, which is a problem for scaling up too. Almost all of the buyers at Billingsgate are non-white.
Handling complaints
Either Caroline or Claire handles complaints. Caroline is more defensive and asks for photographic evidence, then reports to the team. Generally they just give refunds but sometimes people want a replacement box for free.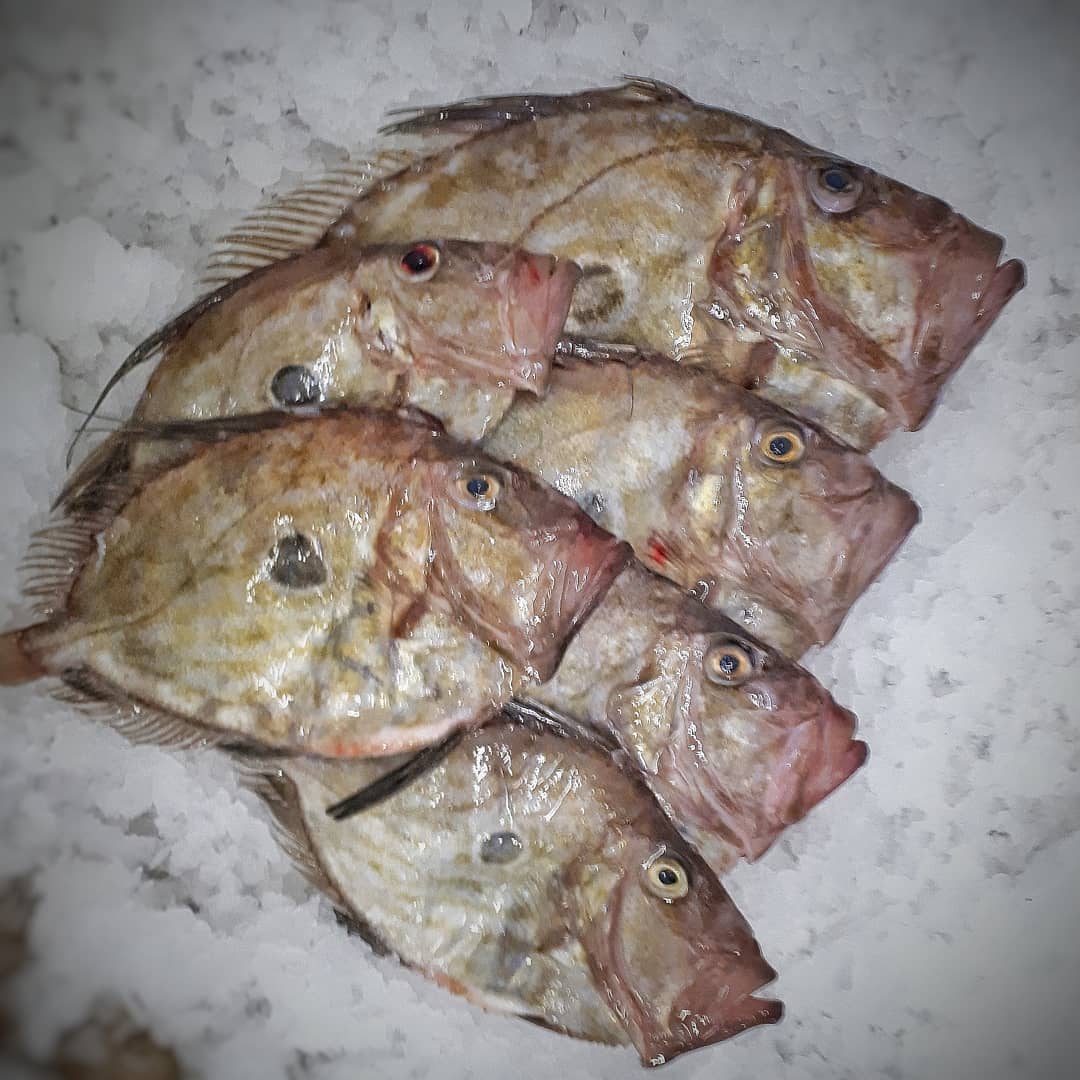 19th May 2020: Dory landed by Harvest Reaper.  Photo courtesy of Sole of Discretion Instagram.
Engaging with the local community
During lockdown, Plymouth City Council very quickly put up a list of local producers on their website. Sole of Discretion was on this list from the beginning which brought in a lot of customers. Otherwise most new customers come via word of mouth.
The issue of distribution is key. It's always distribution that stops small scale food producers from accessing the end consumer. Maybe OFN is the answer to this. Joining up all the small processes to create a distribution system would work. It seems that there is a business model in facilitating the distribution of quality food through the UK for primarily B2C.